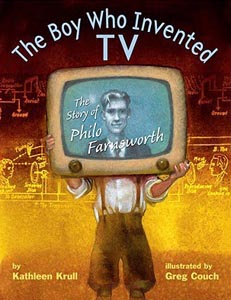 Title:
The Boy Who Invented TV: The Story of Philo Farnsworth
Category:
Biography
Grade:
3-6
Author:
Kathleen Krull
Illustrator:
Greg Couch
Publisher:
Alfred A Knopf
Date:
2009
Pages:
32
Philo Farnsworth was the poor farmboy turned inventor who stumbled upon the idea for television while plowing his potato field.
The book examines Philo's early years and love for science as well as the many failed and finally successful experiments that created the first TV.
The afterward in the book reveals that while Philo created TV, he did not ultimately receive credit for his invention, nor did it play the peacemaking role in society that he had hoped.
Review:
Slightly dry in places, the book would still be excellent source material for a biographical project or report.