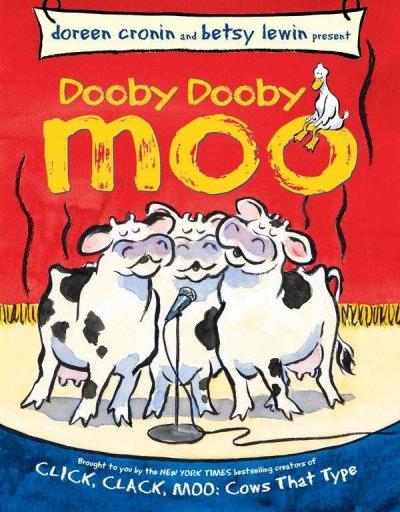 Title:
Dooby Doby Moo
Category:
Audio Book, Picture Book
Grade:
PreK - 3
Author:
Doreen Cronin
Narrator:
Randy Travis
Publisher:
Atheneum
Date:
2006
Pages:
32
Farmer Brown and his cast of outrageous animals are back in a new adventure.
Duck discovers an ad in the paper for a talent show at the county fair.
The cows, sheep and pigs all practice diligently every night, while a suspicious Farmer Brown tries to figure out what they are up to.
At the fair, the cows do well, the sheep do better, and the pigs fall asleep onstage.
Determined to win the prize, Duck steps in with a rendition of "Born to be Wild" that takes the show and the first prize trampoline.
Review:
With country singer Randy Travis lending his rich voice and musical talents, hilarious background duck vocals by Jon Carroll and extra tracks that include the full fair performances by the book cast, this audiobook is a must-listen.
An adorable story in the tradition of
Click, Clack, Moo!