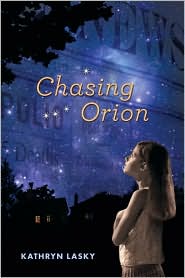 Title:
Chasing Orion
Category:
Juvenile
Grade:
5-9
Author:
Kathryn Laskey
Illustrator:
N/A
Publisher:
Candlewick
Date:
2010
Pages:
362
Though Georgie reads polio statistics in the paper daily and sees victims on TV, she never expected to find a polio victim in the backyard next door.
Teenaged Phyllis is in an iron lung and seems hungry for company – both Georgie's and her good-looking elder brother Emmett's.
As Georgie gets to know Phyllis better, she realizes that much of her happy persona is, in fact, a lie, and all Phyllis really wishes for is death – freedom from her iron prison.
And Emmett, thinking he is helping her recuperate, may be just the person to help Phyllis accomplish her goal.
Review:
Though length and content may not be appropriate for a younger reader, this story was well told and quite fascinating with a unique subject matter.
Lasky not only entertains her readers but raises several questions worthy of discussion that surrounded the polio epidemic of the fifties.