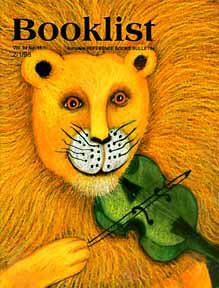 Title:
Booklist
Category:
Review Journal
Author:
Bill Ott, ed.
Illustrator:
N/A
Publisher:
American Library Association
Date:
July 2010
Pages:
88
One of the best-known review journals,
Booklist
reviews books, media, and reference for all age groups including adults.
The journal is split between adults and youth, then arranged by fiction/nonfiction, genre, and alphabetically by title.
Review:
Most reviews were readable, although this is a tool for a librarian, not for children looking for something to read.
Many reviews in the children's sections offer suggestions of other similar or related titles.
Although the layout can be slightly confusing or cluttered, this journal contains an amazing wealth of information, and would be an indispensable tool for collection managers.